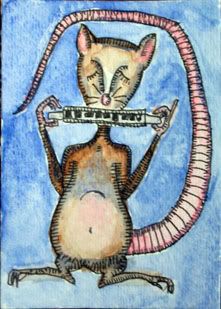 RAT BLUES


Since my baby left me
(badadada dum)
My world is in a haze
(badadada dum)
Those dudes in all white lab coats
Got me runnin through a maze
I got the rat blues
The gol'dang rat blues
The stepped in a trap blues
The here comes the cat blues
Oh baby please tell me
(badadada dum)
What am I s'posed to do
(badadada dum)
How much cheese does it take now
For me to get over you
(Chorus)
Yeah, ok, so maybe
Lady Macbeth
isn't the best idea for a children's book illustration submission. Not that I'm submitting anything. I don't really know how that world works. But something tells me a rat singing the blues is more appropriate than a bloody and crazed lady. But maybe I'm wrong. Like I said, I don't know much about the children's book illustration business. If you, dear reader, have any advice/hints/money to give, let me know in the comments.
Anyway, here's a little rat-tacular musical pic your your amusement. Are you amused? I hope so. Because I was really trying to stay away from horrified this time.
Previous music-themed aceos
here,
here,
here,
and
here.

Go out and buy this little ditty here.