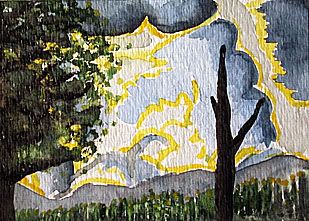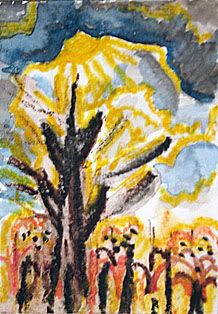 I've got three new ones on ebay. I posted them all at the same time, so I could get a better indicator of what style is more popular. You, dear reader, could also help out by leaving a comment or two, letting me know which one you like best!
These three are: TOUR DE SKULLY, LANDSCAPE 1, and SUN PRACTICE. The landscapes are influenced by the paintings of Charles Burchfield, who've I've just been clued into. TOUR DE SKULLY comes with a rant, which goes as follows:
So anyone who at the very least glances at the Tour on TV will notice how skeletal the riders are. Many of them are downright ghoulish, especially in the final stages. In this anti-obesity hysterical society we live in, it should be pointed out that exercise more often than not is very unhealthy. That's right, I said it. Being fat isn't a health crisis. Maniacally demanding people adhere to some arbitrary waifish beauty standard is. Athletes should not be viewed as the pinnacle of health. They severely abuse their body to successfully compete for our enjoyment. If there was a drug that had the same effects on the human body as the Tour, you can bet our bed-wetting politicos would be earning popular points for demanding it's prohibition.
To purchase, click on my What am I selling now? link on the right.