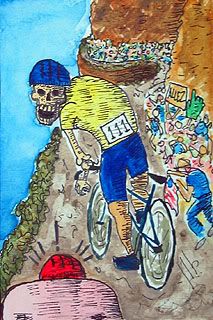 TOUR DE SKULLY - THE LOOK
My first commission!
This image will be familiar to all Tour De France fans. Basically, while Lance Armstrong and Jan Ullrich were racing up a mountain, there was a moment when Lance looked back at Ullrich, who by that point was pretty tuckered out. Upon receiving Lance's glare, he withered. Lance took off. It was one of those 'DAAAAAANG!' moments in sports that loses much in the description. So I'll stop trying.