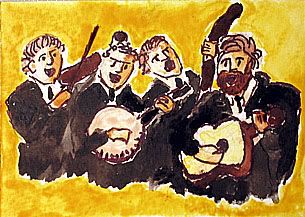 BLUEGRASS BLISTERS
The tips of the fingers on my left hand hurt. Why? Look at the picture. In a bluegrass band, you can't just sing, you gotta play something. And apparently, you're not truly a resident of North Carolina if you're not in a bluegrass band. Or at least capable of jamming with fellow bluegrass enthusiasts.
Now, I can sing alright. But the guitar in my closet has been very close to ebay-ification many times because I never learned play. But now, I have to learn because a friend won't let me be "that guy who has a guitar in his closet but doesn't do anything with it like jam with friends." So now I'm trying to learn again. If bluegrass is to NC what boxing is to Mexico, I've just volunteered to be a sparring partner in Tijuana. Oy, Dios mio.
If interested in purchasing, click here.
(Back to the cartoony style, back to selling. This one received my highest bid! OK, I can take a hint.)