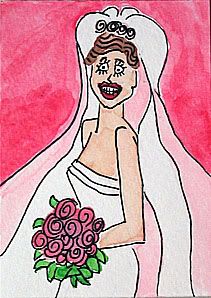 PHARMA BRIDE
Since the wife and I moved down here, we started reading the wedding section of the local paper. These ladies aren't playing around - we're talking debutant balls here. They seem to my untrained eyes to be a little on the frantic side, hence the inspiration for PHARMA BRIDE. Ir is and I, we went down to the courthouse and then had mexican at El Portrero's in Queens. Man, I miss their chile rellenos...
If we did the paper announcement thing, it would go something like this:
Iris and Josh were united in marriage Saturday, March 15. Ides of March indeed. Some legal clerk lady officiated at the courthouse, and handed them the wrong marriage certificate. They were almost Mr. and Mrs. Guerrero. Once that little misshap got cleared up, they had reception at the asian goods store, Pearl River, where their friend and witness bought them a cool incense burner. Iris was a graduate of a midwestern state school, where she majored in English and minored in Women's Studies. Fortunately, she did not become insufferable. The groom, Josh, is a scattered individual filled with self doubt and angst. May they live happily till the end of time.
(No bidders. I'm running out of adjectives here, people. If you would like to purchase this, let me know and I'll relist it on ebay.)