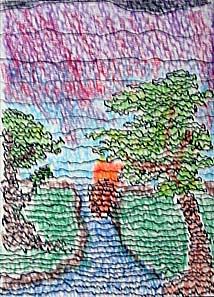 SCRIBBLE SUNSET
I must come clean: I went to my first art class last night. I know, I know, this kind of ruins my experiment, but I would kind of like a little advice from people looking over my shoulder. Also, I really don't know what I'm doing, so if I get a little educated I might be better able to do what I want. It's all about minimizing my angst, people. So if you want a pre-art class harmoniousjosh piece, this is one of three.
SCRIBBLE SUNSET is pretty much what my doodles look like when on hold on the phone. I try to make some semblace of three-dimensionality by piling on a scribbley string. I thought I'd add a little color to it, make it a little more looker-friendly.
I've also started using outsider in my item title as suggested by a buyer. That reminds me of when I was in high school I was cast in a stage adaptation of S.E. Hinton's The Outsiders. The funny thing is, I wasn't one of the outsiders - I was an insider. The main insider - the Soc that gets killed. Dying a violent death on stage is a blast - I highly recommend it. Stay golden, Ponyboy. Do it for Johnny!

(No bidders. Dang. If you would like to purchase this, let me know and I'll relist it on ebay.)