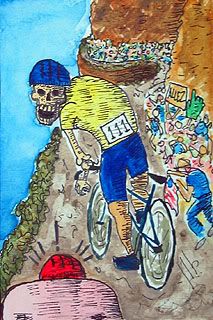 WELCOME, FIXEDGEARCYCLING.BLOGSPOT.COM FANS
Glad to see some cyclists enjoy my bike pics. I would be chagrined to learn otherwise.
If anyone is interested in getting prints, or would like me to paint something for you (I'm really cheap), let me know in the comments. I usually sell on ebay, but will be setting up a
papal
paypal (thanks, Mick, you're a great proofreader) account where you can buy things on the site. Or I might upgrade my cafepress account so I can add more images. Or, I might give zazzle a shot. Or I might put some cans of beans in a bag at the end of a stick and ride the rails like a hobo. Who knows.
Anyway, I ride a '80s Fuji touring bike frame with a fixed set up. I use front brakes because my wife makes me. Actually, I'm too lazy to rely on my legs to do all the stopping, but the wife provides a nice cover for my lack of manliness.