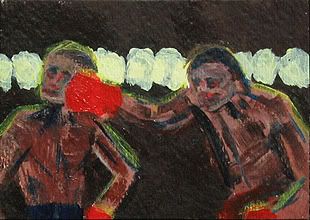 BOXING MATCH
Boxing. It's a messy business. Frankly, what goes on in the ring is the cleanest part of it. Hit, don't get hit. That's pretty much it. It's outside the ring where most of the damage is done.
First, there's making weight, which is just a nice way of saying starving yourself. For kids in the amateurs and golden gloves, that means starvation at a time of major growth.
Then there's the politics of sparring partners. Trainers lie to other trainers about their fighter's abilities, hiding their skills. so when they get in the ring with a supposed equal, their fighter looks really good.
Then there's racism. No explaination needed.
You're also dealing with a lot of kids who have very tough choices in life. Gangs seem like they provide a more secure and fulfilling life structure than other options.
But at the same time, the gym is like a team. If you're in, you're part of a family (like a gang, I guess. Only you can leave without reprocussions). You help eachother out.
And then you step in the ring. All that other stuff doesn't exist anymore. You are alone. You are tested on your own merits, no excuses. Sometimes you're having a good day. Sometimes, not so good. Doesn't matter. Hit and don't get hit.
Bid
here.