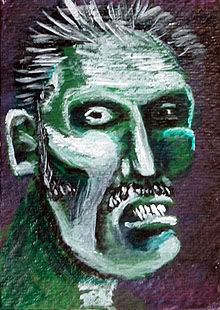 GREEN WITH ENVY
Ferdinand was a jealous man. He was jealous of the men who married Rita Hayworth. It has been said by none other than Rita herself that men never loved her - they loved Gilda (the main character of the classic movie with the same name). But not Ferdinand. He loved Rita. And that is the worst kind of jealousy - to covet something you can't have, and is not appreciated by those who do have.
The thing is, Rita probably wouldn't love a man who wasn't in love with Gilda. Life is a cruel Catch-22 sometimes.
Of course, being all scary looking didn't do Ferdinand any favors, either.
Spend some green here.