SKULL FLOWER
Ah, memories. It seems like only a few months ago when I listed my first aceo, SKULL BOUQUET. That might, just might, have something to do with the fact it was only a few months ago. Maybe. Come, walk with me down the retrospective path of my art history:
SKULL BOUQUET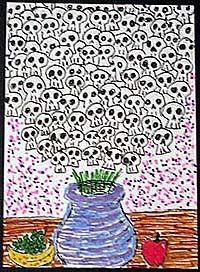 I think there's something to that whole practice equals improvement thing. Here's a close-up of the detail of

SKULL FLOWER:
For the record (call Guiness), this is my first go at acrylics that's not a paint-by-number.
Bid here.