INSPIRE ME THURSDAY: PAINT
The IT folks are back from vacation with a new inspiration for the nation of artists whose creation keeps me away from my Play Station. That would be paint. Easy, I thought. That's pretty much all I do, artwise. So I started to paint a landscape, didn't know when to stop, and wrecked it. No tragedy, happens all the time. So I set it aside, figuring one day I might be able to fix it. The only problem: what to do with all the extra paint.
It's not actually a problem. I just said that to build a little dramatic tension. I did what I always do when I have extra paint left over: I splatter it all on an aceo card. Sometimes it's a freshie, sometimes it's over a goofed doodle. I use everything, waste nothing. This is the way of my people.
On the splattered aceo, I try to make something out of it. Rarely are the results any good, but I get to try things without the pressure of creating something ebay-worthy. Here are a few with just paint (in accordance with ITs strict draconian rules):
1.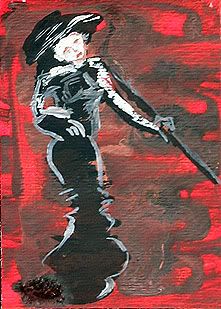 This one is a mix of acrylics, gouache, and watercolor. The shiny part in the bottom/left corner isn't wet - it's some acrylic shining through.


2.
This one is all acrylic - Obviously, I had alot of green and white left over. This is actually painted on another recycled splatter painting - there's some pinkishness coming through the green in spots.


3.
Another acrylic. I started to paint a canoe in this trippy little landscape, but fell out of love with the idea. It's not you, little painting; it's me.


4.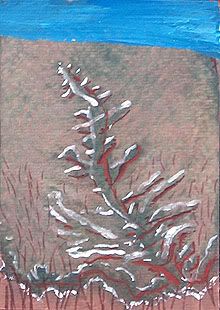 This is from very wet gouache. It's also the one from the remains of my IT attempt. So, I guess this is my official IT submission.

Do any of you, loyal readers, think any of these have potential? If so, what would you recommend I do? My very soul is bared. I feel so naked.