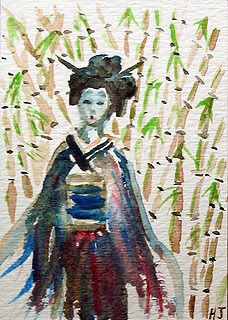 Emperor Nobunaga has been a real pain lately. "Read me more poetry! Serve me tea! Make intelligent conversation!" Dude. Chill.
What's a geisha to do? Make like a panda and hide in the bamboo.
Yes, smarty, I know geishas are from Japan and pandas are from China. Give a guy a little poetic liberty, why don't you? It's not like I tried to rhyme "station" with "direction" or something equally ghastly.
What's that, you say? You want a Haiku? What do I look like, a geisha? Sigh. Fine.
Attention craving
Mama's boy with great power
Sun rises, moon sets.
-----
LOOK! Pretty shiny things to buy @ NUTMEGNINE.COM!
Need more wittyness and birdwatching excitement? Click this VERY SENTENCE.