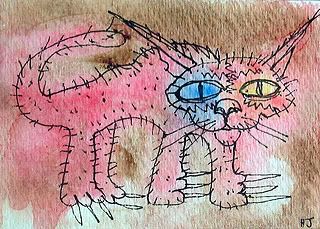 You knew it would happen eventually.
In my art education travels, I find masters who inspire me. Debuffet, who's all "three dimensions are for suckers," (I might be paraphrasing a bit) makes for a great Kitty experiment. No depth. Two dimensional. Haphazardly, even chaotically, put together. Not entirely unlike me. And yet... and yet you love kitty, don't you?
-----
LOOK! Pretty shiny things to buy @ NUTMEGNINE.COM!
Need more wittyness and birdwatching excitement? Click this VERY SENTENCE.