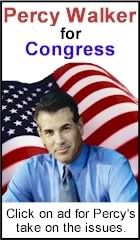 Please note my support for
Percy Walker's
run for Congress on my sidebar. Normally I don't do the voting thing, as I find the majority to be wrong about everything. But, he said he'll get the
Weatherspoon Art Museum
to have a show featuring ME if I add his banner to my site.
So click on his picture to learn his political blah blah blah. I want trendy people sipping boxed wine as they mill about my tiny art, commenting approvingly.
Well,
Percy Hater,
what do you have to say about that? The ball is in your court. You know that a PW HJ alliance will pave a smooth road to Congress. No amount of ACEO defacing can stop us now.
-----
LOOK! Pretty shiny things to buy @ NUTMEGNINE.COM!
Need more wittyness and birdwatching excitement? Click this VERY SENTENCE.