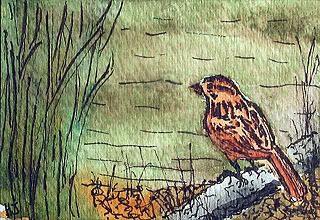 I suppose you could say this sparrow is"reflecting" in the mossy water. You could. But if you look close, this little dude has a distant look in his eye. Permit me a little anthropomorphization (one of my favorite words. Look it up): he's reflecting on his life thus far, wondering where the time went. Life is short, especially for a little bird. And harsh if you're not rare. Why couldn't I have been an ivory-billed woodpecker, or better yet, a resplendent quetzal? If you cut me, do I not bleed? asks the sparrow. Alas, he's experiencing life as what some would call a Junk Bird. Harsh indeed.
Or perhaps I'm projecting. The sparrow is probably looking at a bug, saying "mmm. Food."
And just to show I do sometimes paint before ink, here's a Work In Progress pic: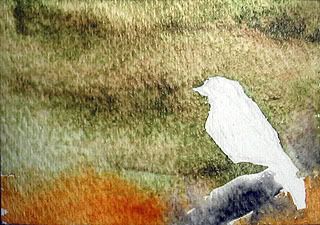 -----
LOOK! Pretty shiny things to buy @ NUTMEGNINE.COM!
Need more wittyness and birdwatching excitement? Click this VERY SENTENCE.