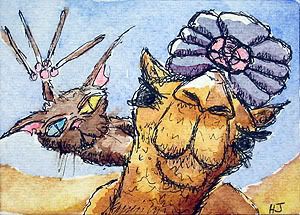 WISE KITTY
This Wise Kitty is in a rush - claws bared, he tries to spur his camel steed on his way to meet up with two other Wise Kitties. Making his way out of the Orient (Siam, if you please; or if you don't), carrying a gift of catnip for the newborn King of the Mews.
-----
LOOK! Pretty shiny things to buy @ NUTMEGNINE.COM!
Need more wittyness and birdwatching excitement? Click this VERY SENTENCE.