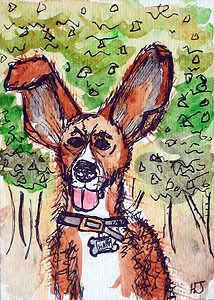 HAPPY DOG
As many of you know, I have a dog named Happy. Here she is:
As many of you also know, I am fiercely protective of her. Woe be unto the poor creature that so much as makes her yelp. Many woes. Like, 42.
My protectiveness does not preclude me from mocking her, however. She has crazy big ears, and she leaves her tongue sticking out for no other reason than she forgot where it belongs. She falls for all of my card tricks. "Hey, Happy! Wanna play 52 Card Pick-Up? Bwa ha ha haha!
-----
LOOK! Pretty shiny things to buy @ NUTMEGNINE.COM!
Need more wittyness and birdwatching excitement? Click this VERY SENTENCE.