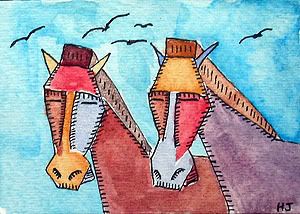 MONGOLIAN HORSES
I was looking for inspiration for painting a horse. Horse-peration. I didn't want to just paint any old horse. So I went to the horse source: Mongolia. On the internets, of course. I'm poor. I can't just pick up and travel to Mongolia.
There's some amazing art coming out of Mongolia. I found quite a few images with horse subjects, of course of course (sorry, had to be done), that had an aesthetic that appealed to me. Here's a HarmoniousJosh-ified version of one of them.
Need more wittyness and birdwatching excitement? Click this VERY SENTENCE.