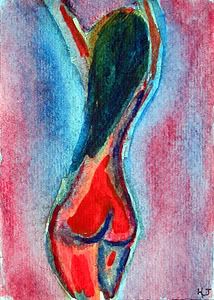 KALLIPYGOS
My first nude - it's like an artistic Bar mitzvah.
This is my contribution to the eBay ACEO forum challenge, HEART. Supposedly, the heart shape as we know it is really a Greek representation of Aphrodite's beautiful behind. Sounds right to me. I mean, the valentine heart looks nothing like the organ that pumps blood through the body. Here is where I would make a blood-pumping-sexy-butt joke when I was a mere boy. Now, I've got to be a mature mensch.
This image, I should note, is inspired by a painting I found on
this website
dedicated to Mongolian art.
Let's see: I've got Greek, Jewish, and Mongolian cultures covered in this post. See how a derriere can bring people together?
-----
LOOK! Pretty shiny things to buy @ NUTMEGNINE.COM!
Need more wittyness and birdwatching excitement? Click this VERY SENTENCE.