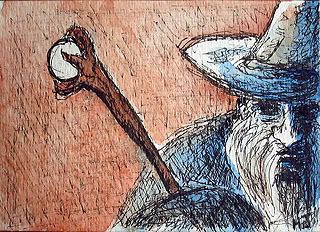 I had (and still do, actually) Ozzy singing "The Wizard" in my head the entire time I was drawing this one.
I don't know why he looks angry. I hope it wasn't anything I did. Not that I believe in magic or anything. I just don't want to get hit with that stick.
-----
LOOK! Pretty shiny things to buy @ NUTMEGNINE.COM!
Need more wittyness and birdwatching excitement? Click this VERY SENTENCE.