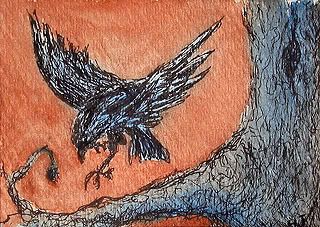 Subtitled: LITTLE SPIKEY BALL
In North Carolina, little spikey balls fall from trees during fall and winter. When you're trying to clear the sidewalk with a leaf-blower, they roll in unpredictable directions. Tenants complain about the risk to injury they pose.
I hope someday they manage to genetically engineer a beautiful tree that drops NOTHING.
The crow couldn't care less. He just doesn't want to accidentally miss that branch, as that would be embarrassing.
-----
LOOK! Pretty shiny things to buy @ NUTMEGNINE.COM!
Need more wittyness and birdwatching excitement? Click this VERY SENTENCE.