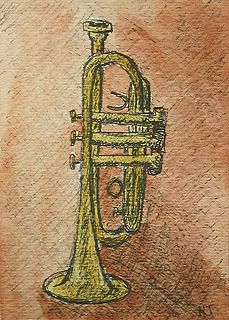 I enjoyed drawing this in art class. If it sells for the cost of that class, I'll be breaking even.
I guess you could say you're not paying me, but rather the Art Alliance of Greensboro.
Anyway, here's a trumpet for your enjoyment. You can't actually play it, of course, but that may be a good thing. If you are a terrible player, for example. Like the guy that was painfully honking a rendition (for lack of a better word) of Girl From Ipanema. I loved that song, once.
-----
LOOK! Pretty shiny things to buy @ NUTMEGNINE.COM!
Need more wittyness and birdwatching excitement? Click this VERY SENTENCE.