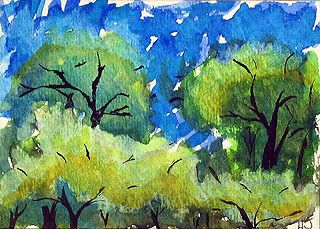 Here's one I did for my dad for his birthday. We traded, since it was my birthday soon after: I got a mountain dulcimer. As much as I like this aceo, I think I came out ahead.
ILLUSTRATION FRIDAY UPDATE:
The topic is GREEN. Here in Greensboro, NC, GREEN is busting out all over. Looking out my window, I see a scene similar to this one.
-----
LOOK! Pretty shiny things to buy @ NUTMEGNINE.COM!
Need more wittyness and birdwatching excitement? Click this VERY SENTENCE.