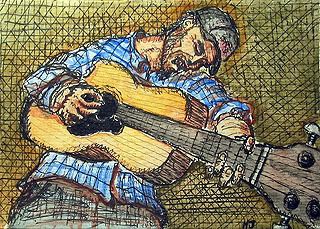 I'm a mediocre guitar player at best. When I do play, this is kind of how I look in my head.
You know it's not me because I usually wear glasses. And I have a bigger nose. And, if
Mick Reasor
is to be believed, my left eye is two to three times larger than my right.
Do you like the Work In Progress thing? I sure hope so. It's not easy for me to remember to take picturesin the midst of aceo making.
Here's the initial outline next to a couple of sketches:
Finished inking:
Add color, and ta da.
-----
LOOK! Pretty shiny things to buy @ NUTMEGNINE.COM!
Need more wittyness and birdwatching excitement? Click this VERY SENTENCE.