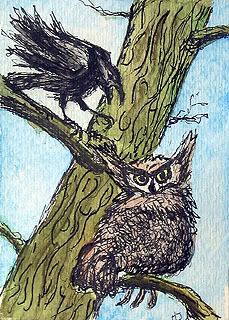 ILLUSTRATION FRIDAY: FORTUNE
I had the fortune to see a great horned owl the other day.
The wife and I were walking the dog in the park and heard some crows going crazy. They were mobbing something. Looking up in a tree, we saw the crows hurling their anger at a nonplussed great horned owl. We ran back to the apartment to get the camera. Zooming in, the owl was looking right at us.
Very spooky.
Did you know that a great horned owl has enough claw strength to take your face off?
Anyway, here's an ACEO to commemorate the event.
-----
LOOK! Pretty shiny things to buy @ NUTMEGNINE.COM!
Need more wittyness and birdwatching excitement? Click this VERY SENTENCE.