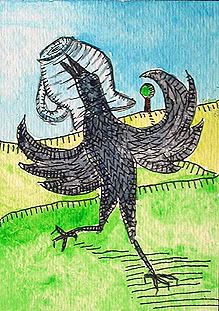 SEVENTH ACEOp Fable:
THE CROW AND THE PITCHER
Summary:
You know this one. The crow is thirsty, there's water in a pitcher, but not enough for the crow to reach it. So the crow drops in some pebbles to raise the water level to a drinkable height.
Moral:
Uh, smart people are never thirsty, I guess.
My take:
The crow in this fable is female. The wife points out to me that if this were a male crow, he'd get his head stuck in the pitcher and then parade around, proud of his accomplishment. In this case, I have to agree.