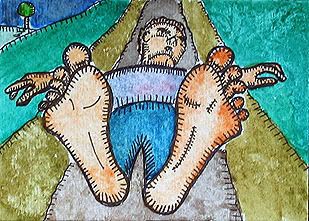 EIGHTH ACEOp Fable:
THE STAR-GAZER
Summary:
Dude falls into a ditch while looking at the stars instead of where he's going.
Moral:
Dream all you want, cold, hard reality will be there to catch you when you fall.
My take:
This one makes me think of the Pixies lyric,
With your feet in the air, your head on the ground
Try this trick and spin it, yeah
Your head will collapse
But there's nothing in it
And you'll ask yourself
Where is my mind
I'm extra fond of this one, so I'm going to charge a little more. Look at those great feet!
Anyway, having been beaten down by life, I am definately with Aesop on this one. Star-gazing is great and all, but only after rent is paid. Man, I'm cranky.