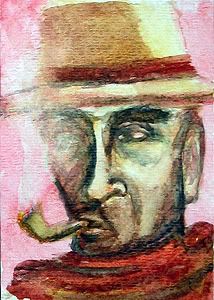 SMOKIN OUTLAW
Any similarities between this character or anyone you know or, Odin forbid, you, are purely coincidental. Unless of course you're one of those "a reason for everything" types. In which case, I've got nothing to tell you other than IT'S ALL CHAOS.
I'm enjoying the process of making these faces. There's no planning - I haven't been sketching at all. Just painting the outline of a face and going from there.
Here's SMOKIN OUTLAW. He's obviously a bad dude of some sort. He has to be, as he's smoking. Rob Reiner would sue the pants off of me if I made a sympathetic character with a pipe dangling from his lips. We must think of the children, after all. And the trial lawyers.
Need more wittyness and birdwatching excitement? Click this VERY SENTENCE.