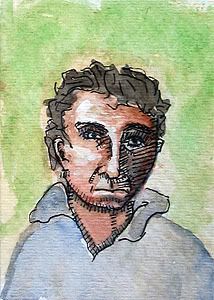 LOU DIAMOND PHILLIPS: NOW WITH MORE ILLUSTRATION FRIDAYNESS!!!
In a blatant attempt to drive the billions of Lou Diamond Phillips fans to this blog, I've painted his likeness in the form of an aceo.
That's my story, and I'm sticking to it.
UPDATE: Welcome,
Japanese Lou Diamond Phillips fans!
UPDATE 2: La Bamba. Stand And Deliver. Young Guns. YOUNG FREAKIN' GUNS. Dude was awesome in Young Guns. Lou Diamond Phillips, an 80's icon if there ever was one.