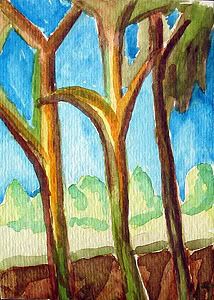 BURCHFIELD-ERIFIC
When I first started painting, smart art people suggested Charles Burchfield as an artist I might enjoy. They were right - his work is very good.
I'm not going to school for any of this, so to educate myself on the masters I'm reading books and, as you may recognize here, copying their work. This is my attempt (homage?) at Charles Burchfield's "Gothic Window Trees.
Need more wittyness and birdwatching excitement? Click this VERY SENTENCE.