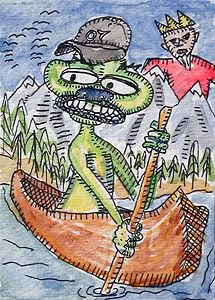 GREENMAN IN A CANOE
What a sight the Greenman is. A paradox, even. Perhaps I should explain.
The Greenman lives in complete freedom. His society has no need for laws, as the understanding of life as a non-zero-sum game is ingrained into their genome. Without any laws, they don't need any leaders. However, there's a catch.
You see, they live in fear of one day having their freedom taken away. They're constantly running from an imaginary king who wishes to rule them. And that's the paradox: the fear is also written into their genome.
So the Greenman has complete freedom, but is a slave to fear.
Is there a political message to this story? Only this: Groucho Marx did not win any elections AGAIN. And that makes me angry.
Need more wittyness and birdwatching excitement? Click this VERY SENTENCE.