LAWRENCE OF ARABIA IN 24 QUICK SKETCHES
UPDATE: ILLUSTRATION FRIDAY IS SUPER HERO!
Maybe a little bit of a stretch, but Lawrence Of Arabia was a super hero of sorts. Well, at least until the Turkish torture incident... "You have an interesting face..."
---
I wanted to draw last night, but Lawrence Of Arabia was on. Sure, we could have DVRed it, but then I'd have to set aside four hours some other time. And it's one of my favorite movies. Why not do both at the same time? So I sketched random scenes while watching. Here's the result. This won't make any sense if you haven't seen the movie recently. Or a few dozen times.
This is my well.

For his pleasure. My mother mated a scorpion.


Who are you? Two glasses of lemonade, please.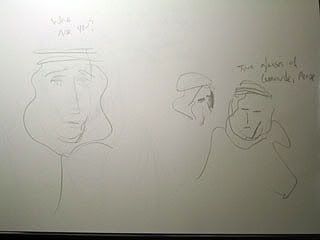 OK, we paused it here for Iris to take the dog out. Hence the greater detail. Here's the text: I want to know, sir, if I can tell them in your name that we have no ambitions in Arabia.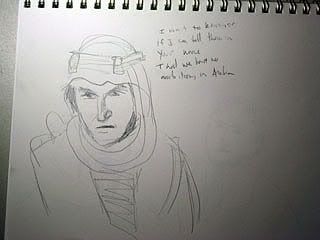 Now we are talking turkey, no?


Alec and extra with their booty - a parasol and clock.


They can only kill me with a golden bullet. I must find something honorable.


You have an interesting face. A man can't want what he wants.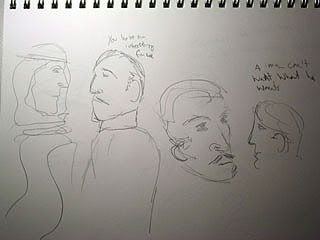 Jolly good about the squash court. There may be honor among theives, but none among politicians. He is the same man.


NO PRISONERS! For the bloody papers.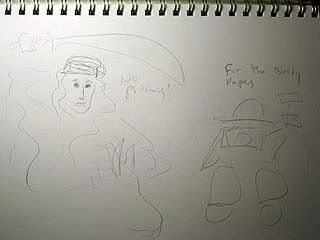 You speak to me of bloodshed? They're leaving.


We are equally glad to be rid of him.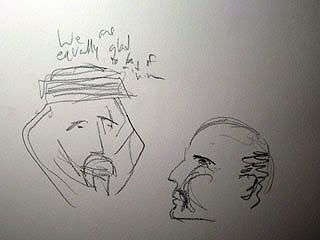 -----
LOOK! Pretty shiny things to buy @ NUTMEGNINE.COM!
Need more wittyness and birdwatching excitement? Click this VERY SENTENCE.