Work is starting to let up a bit, so let's just pretend October never happened and resume with the art stuff.
This is a piece I shall call MULTI-TASKING. See, I was doing the standard art class thing and painting a skull some decomposed dude was nice enough to model. While letting bits of it dry, I wanted to work on watercolor shading. Hence, the blobs. It's all on the same page because, well, I had the room and didn't feel like ripping it out just yet.

Next, I've got three aceos up:

and
RETURN OF BELLYPUNKER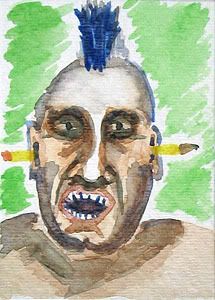 More to come, especially since the laundry is done and the dog has been walked.